Diversity, Equity & Inclusion
We believe in the success of diverse teams and provide equal opportunities for our employees. We value the uniqueness of each of our colleagues and strive to create a culture where everyone can be their authentic selves.
Our approach
We aim for a culture that encourages people to be their authentic selves and to share diverse thoughts and opinions, which lead to better decision-making and innovation. Our global presence and operations in various markets mirror our commitment to promoting a diverse and inclusive workforce. As our Code of Conduct states, we respect the equality of people and cultures and we believe in the positive impact that the inclusion of a diverse workforce can bring to the culture and success of our organization.
We have been a signatory of the UN Women's Empowerment Principles (WEPs) since 2022. The WEPs is a set of principles that guide businesses in fostering gender equality and women's empowerment. The principles include topics related to treating all women and men fairly at work and thereby respecting and supporting human rights and nondiscrimination. Being a signatory of the WEPs strengthens our commitment to contributing to the UN Sustainable Development Goals and to empowering our employees, so that they can unlock their full potential, regardless of their gender.
Our activities
We are committed to further developing Diversity, Equity and Inclusion (DE&I) at dormakaba across the following three areas.
Building an inclusive culture where employees can thrive
We want to provide an environment where employees can safely share their opinions and feel comfortable to be themselves. Through communication and training, we aim to create awareness and achieve a deeper general understanding of DE&I across the organization.
As part of a global initiative, in FY 22/23 more than 90% (1,978) of managers and HR business partners were trained on Diversity, Equity & Inclusion with an eLearning module on unconscious bias. Further workshops on DE&I were conducted across Region Europe & Africa and KWS to raise awareness within leadership and identify next steps to implement DE&I initiatives at the local level. In the Region Americas we have assigned the harassment and discrimination training to every non-manufacturing employee via webinar and in-person sessions for manufacturing sites and service locations. By the end of FY 22/23, 838 employees had completed the training to gain a better understanding of the local non-harassment and discrimination policy and the different reporting channels available to them.
On International Women's Day, we launched several employee engagement activities – both on a global and local level – to raise awareness of the positive value of diverse and inclusive organizations. The key topic in 2023 was "Embrace Equity", which we celebrated globally with a "Selfie Card Challenge", that saw several employees share their photo with powerful messages. Also, on this day, virtual sessions were hosted across all Regions with guest speakers and inspiring discussions. Moreover, in FY 22/23 we launched the DE&I Info Hub on our intranet, where we continuously share local DE&I initiatives.
In the UK, we have completed a gender equality assessment in partnership with EDGE and achieved the EDGE ASSESS level. Based on the findings in the next two years we are going to develop an action plan to improve our scoring for gender equality. A similar assessment took place in India, in partnership with AVTAR, where they identified areas for improvement that will be addressed during the next financial year.
Building a succession pipeline that supports a diverse leadership team
As part of our sustainability framework, we set global targets to improve gender diversity within our organization. We aim for one in three managers to be female (19% in FY 20/21) and to increase the ratio of women in succession planning for senior management positions to 25% by 2027 (14% in FY 20/21).
To attract a diverse workforce, we need to make sure that our recruitment processes are fair and free of discrimination and bias. Therefore, in FY 22/23 we developed a global DE&I recruitment policy to ensure that we select the best candidates from a diverse pool of applicants who represent different cultures, generations, ethnicities, gender identities and expressions, disabilities, family or marital status, languages, national origins, physical and mental abilities political affiliations, race, religions, sexual orientations, socio-economic status, veteran status, underrepresented communities, and other characteristics. The policy will be rolled out in the next financial year.
We are also focusing on developing an internal talent base and ensuring that all employees receive the same access to development programs. And, since our industry is traditionally predominantly male, we provide additional development platforms specifically for women that help them grow. For example, during FY 22/23 the Female Leaders Network in the Region Europe & Africa onboarded 24 new members, increasing the number of participants to 70 female leaders who have joined over the past three years. In France, we launched a French Female Network Club, "Just between us", to empower female employees to realize their potential and exchange experiences on topics such as work-life balance, time management, and self-branding.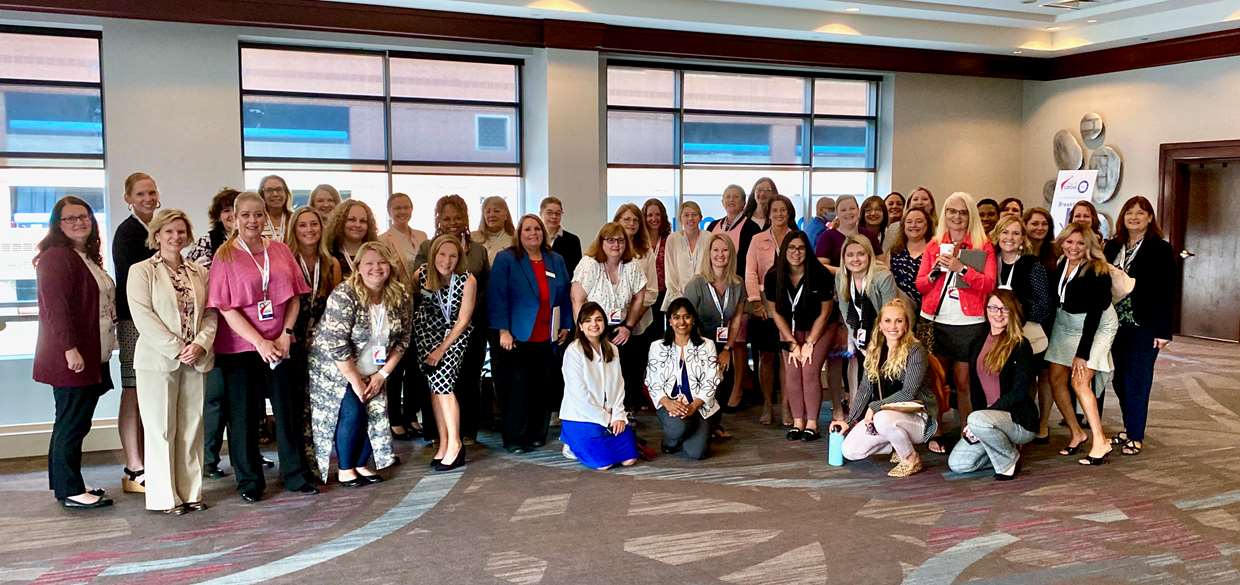 Supporting professional development for women in the Region Americas
The Women's Network in the Region Americas was officially launched on International Women's Day in 2022. Its purpose is to create a place for women to bring their authentic self and achieve their full potential. The network provides mentorship, career development, and more visibility for women within dormakaba. In addition to providing monthly Lunch&Learn-style developmental sessions, the Women's Network offers peer-to-peer mentoring and development through external professional organizations. The Women's Network sponsors membership and conference attendance with the Society of Women Engineers (SWE), Women in Manufacturing (WiM), and the Women in Security Forum (WISF). These organizations support the advancement of women through networking, education, mentorship, and personal and career development.
The Women in Security Forum's Power 100 recognition program honors 100 exceptional women in security who are raising the bar, changing expectations, and breaking barriers. They model leadership, inspire others, and shape, and transform the security industry. We are proud that since its inception in 2022, seven dormakaba women have been recognized!
Wendee Molina, Plant Manager at Nogales (Mexico) is one of them. Wendee is an industrial electronics engineer, with an MBA and also has Six Sigma Black Belt certification. She has been with dormakaba for five years and has 29 years of experience in the manufacturing industry. Wendee is also active in the community, for example she is a mentor in local women empowerment programs, and the president of a support team to develop STEM curriculum for local professional schools.
Why do you think it is important to give more visibility to exceptional female leaders, for example through awards such as the Power 100?
Such recognitions put the spotlight on women, who can then become role models for other female leaders, potential female leaders, and college students, to inspire them along their career path. Female leaders, especially in STEM positions, are generally under-represented at a global level. This does not mean that women are not capable of delivering excellent results, it is rather a consequence of biases, social norms, and expectations.
Why is gender equality key within a company?
I truly believe that companies should find the best contributors to accomplish the business purpose, regardless of their gender. The optimal leadership team is a mix of both male and female managers, whose strengths combined can deliver the best results. My experience is that we can develop great teams, both horizontally and vertically, when we respect each other and understand our purpose.
What advice would you give to other women in the business world?
The key is to find the balance between personal, family, and work life. Always have clear goals and work to accomplish them every day, little by little. And it is just as important to love what you do.
Ensuring the appreciation of all minorities
We support and engage with voluntary Employee Resource Groups in which our minority groups can connect, and discuss concerns and opportunities to enable a workplace where everyone can thrive.
In France, for example, there is a Disability Committee in place, that provides support for employees with disabilities and helps in implementing a policy that promotes the integration and retention of people with disabilities.
At our Indianapolis (USA) plant we have been providing our non-English speaking employees with English language and HiSET (high school equivalency test) courses since 2020. In 2023 the plant was formally recognized by the Indiana Association for Adult and Continuing Education (IAACE) for its partnership with the Warren Township School's Adult Education program. Up to June 2023, the program has increased the English language skills of approximately 25 Spanish-speaking employees, and 16 employees have earned their High School Equivalency diplomas. The Indianapolis plant currently employs 74 Hispanic or Latino employees, which is an 825% increase since 2020 (8 employees).
Our performance
In FY 22/23, female employees represented 29% of the total workforce. Across all management levels, 21% were female (vs. 19% in FY 20/21). Employees aged between 30 and 50 make up the majority (53%) of employees represented in this report.
Employees
Outlook
To achieve our target of 25% women in succession planning, additional chapters of the Female Leadership Network will be established, along with updated Employer Branding material to attract more women. Furthermore, we will roll out the DE&I recruitment policy and take measures to introduce a standard global parental leave policy based on the results of a baseline survey conducted this year.
On a regional level, all countries with more than 50 FTE will implement local measures to promote gender and/or minority inclusion in the next fiscal year. Examples include continuous training of managers on DE&I topics, like unconscious bias, the establishment and development of networks and employee resource groups, and improvements in local recruitment processes to diversify the talent pool and avoid biased decision-making.