Human Rights
dormakaba acknowledges the responsibility to respect human rights as outlined in the UN Guiding Principles on Business and Human Rights (UNGPs).
Our approach
At dormakaba, we want to lead by example and engage with our partners to drive more eco-friendly practices and support the protection of human rights. In today's ever more interconnected and globalized world, there is increasing public focus on how companies are respecting human rights in their operations and across their business relationships within value chains. This means they have to demostrate that they are not harming the fundamental dignity and welfare of people as they go about their legitimate work and generate the jobs, wealth, and growth that benefit all communities. Human rights are rights that apply to all human beings, irrespective of nationality, place of residence, sex, national or ethnic origin, color, religion, language, or any other characteristic. Above all, human rights are interrelated, interdependent, and indivisible.
As a company with global supply chains, dormakaba is exposed to increased risks of being directly or indirectly linked with human rights violations. We therefore treat the respect of human rights as a top priority and require our business partners to do the same.
The commitment to human rights is further put into effect by the human rights- related sections in both the dormakaba Code of Conduct and the Supplier Code of Conduct, which establish the company's expectations on human rights for employees and suppliers.
Our human rights commitment was published in FY 19/20 in the form of the dormakaba Statement of Commitment on Human Rights and extends to all individuals throughout the value chain. It was developed based on a gap assessment, stakeholder consultations, and the salient issues identified (see details in the following section), and approved by our then Chairman and CEO. In prioritizing these salient issues, we recognize that some groups may be at greater risk of negative human rights impacts due to their vulnerability or marginalization. We also recognize that the evaluation of the severity of potential impacts may change and that other issues may grow in importance over time. We therefore annually reassess salient issues and human rights risks based on internal and external stakeholder feedback and expert judgments.
We are guided by international human rights frameworks, which include but are not limited to the "Protect, Respect, Remedy" framework of the UN Guiding Principles on Business and Human Rights (UNGPs), the Universal Declaration of Human Rights (UDHR), the International Covenant on Civil and Political Rights, the International Covenant on Economic, Social, and Cultural Rights, the Core Labor Conventions of the International Labor Organization (ILO), and the OECD Guidelines for Multinational Enterprises.
Human Rights Due Diligence (HRDD)
Our aim is to conduct Human Rights Due Diligence (HRDD) throughout our business to proactively assess, identify, prevent, and mitigate actual and potential adverse human rights impacts on potentially affected rightsholders across the value chain. We also use HRDD to identify where we can better support and promote individuals' ability to live by and exercise their fundamental human rights.
We have defined the following HRDD process and outlined it in the Statement of Commitment on Human Rights to ensure dormakaba will be able to effectively implement our commitment to respecting human rights:
Process of Human Rights Due Diligence (HRDD)
Assessing potential impacts to define salient issues
dormakaba does not attribute more importance to one human right over another. However, for the implementation of our human rights commitment, dormakaba prioritizes human rights issues that are most salient to the business – identified via a formal human rights saliency assessment conducted in accordance with the UNGPs.
This included consultations with 20 key internal and external stakeholders, including human rights experts, customers, and suppliers, which generated a focused list of salient human rights issues for dormakaba and formed the basis of the company's Statement of Commitment on Human Rights.
Saliency was defined based on the inherent human rights risk, without reference to how well our company manages the topic already. Thirteen issues appeared as most relevant, and these were further analyzed in terms of the company's leverage and the potential severity of impact. Severity here is defined by the scale, scope, and remediability of the potential human rights impacts on people.
dormakaba Human Rights Saliency Matrix
Among the broader human rights issues identified, we commit to focusing on the salient human rights issues defined below (in alphabetical order):
| | | | | |
| --- | --- | --- | --- | --- |
| Salient issue |   | Potential human rights impacts |   | Illustrative example in our value chain (not exhaustive) |
| Child labor |   | Rights on the protection of the child; Right to a family life; Right to an education |   | Child labor used for cobalt and mica mining. |
| Contributing to conflict |   | Right to the security of the person; Freedom from cruel, inhumane, and degrading treatment |   | Sourcing raw materials from conflict zones and therefore indirectly financing armed conflicts. |
| Customer safety |   | Right to health |   | Door not stopping during operation and injuring someone, or not opening in case of fire and leading to a fatality. |
| Environmental issues impacting human rights |   | Right to safe and clean drinking water and sanitation; Right to health; Right to an adequate standard of living |   | Bauxite mine polluting water used by local communities for drinking, washing, and cooking. |
| Migrant workers (forced labor) |   | Right not to be subjected to slavery, servitude, or forced labor; Right to freedom of movement |   | Migrant workers in plants hired through recruitment agencies at risk of modern slavery/bonded labor. |
| Outsourced services |   | Right to health; Right to enjoy just and favorable conditions of work |   | Outsourced/subcontracted employees in plants facing health and safety risks (e.g., cleaning and security staff). |
| Occupational health & safety |   | Right to health; Right to enjoy just and favorable conditions of work; Right to social security, including social insurance |   | Staff installing products on behalf of dormakaba facing injury risks: lifting heavy equipment, unsafe construction sites, road accidents, etc. |
Given the challenges of limited transparency in the value chain, our salient issues are regularly analyzed in more detail through human rights impact assessments or social audits in high-risk areas in order to develop appropriate measures. We have committed to conducting at least one social audit per financial year in our own operations.
During FY 22/23, we conducted two audits to identify actual or potential human rights risks or abuses in our own operations. Our internal audit team conducted the first audit in the Suzhou plant (China), which did not result in any human rights-related findings. We engaged ELEVATE, an industry leader in Environmental, Social and Governance (ESG), sustainability and supply chain services to conduct an audit in our facility in Taishan (China) in line with the ERSA standard. ERSA is our preferred auditing standard because it covers all relevant social auditing standards, such as SA8000 or SEDEX.
This year we also commissioned social audits for four of our high-risk suppliers. Read more in our Supplier Sustainable Development chapter.
Integrate findings and take appropriate action
All audits have resulted in the development of comprehensive corrective action plans that address the findings and build the capacity of the different stakeholders to prevent human rights issues from happening again. To ensure complete objectivity and best practice in the development of the corrective actions, our external auditing partner – ELEVATE – guides the development of the corrective action plans for all external social audits conducted in our own operations and those of our suppliers.
In last year's Sustainability Report, we reported that the results of a social audit for one of our facilities in Malaysia were pending at the time of publication. Since then, major findings have been reported in the areas of working hours, recruitment fees, and due diligence processes in relation to labor agents. Corrective actions included:
Execution of individual interviews with all migrant workers in the plant to determine the amounts they paid in the form of recruitment fees. Efforts were made to contact and include workers that had left the organization up to six months before the social audit took place.

Having labor agents sign the dormakaba Terms and Conditions for Labor Agents and Contractors as part of their contracts to ensure that no workers will be charged restrictive recruitment fees in the future. contractual clause imposes a Zero Recruitment Fees Directive and an express obligation to ensure specific labor standards and due diligence measures before the worker leaves the home country (i.e pre-departure phase).

Implementation of a due diligence process prior to engagement with labor agents that includes an online interview and on-site visit.

Implementation of a Working Time Schedule that ensures the 60-hour working week limit is not surpassed and all workers get at least one day of rest per week.

Undertaking of efforts to raise awareness of the dormakaba whistleblowing tool during the pre-departure phase training packages for migrant workers.
Tracking and communicating performance
dormakaba issues an annual Modern Slavery and Child Labor Statement. The statement sets out the steps dormakaba has taken to ensure that slavery, human trafficking, and child labor are not taking place in its supply chains or any part of the business.
We commit to transparently reporting on the progress of our efforts in our annual sustainability report and publicly accounting – through this report and our annual Modern Slavery and Child Labor Statement – for how human rights issues are addressed.
We track the effectiveness of our actions and influence to ensure human rights are respected in the value chain. We do this through a management system with concrete targets and key performance indicators, monitoring the implementation of the human rights road map.
Remediating adverse impacts
When adverse human rights impacts are uncovered caused by our business activities or links to our operations, we are committed to taking timely and transparent action to remediate them in a fair and equitable manner in line with the UNGPs. Where we find impacts linked to our business relationships, we will use our influence to encourage suppliers and business partners to respect human rights.
As mentioned previously, in the course of a social audit of our facility in Senai (Malaysia), the auditors found that migrant workers in the plant had paid recruitment fees to the labor agents during the recruitment process, which increases the risk of bonded labor. As a result, local management conducted individual interviews with all migrant workers in the plant to determine the amounts they had paid in the form of fees.
dormakaba has now reimbursed the full amounts paid by the migrant workers as a remediation measure.
Access to grievance
We provide both internal and external stakeholders with the opportunity to communicate their grievances in an open manner. Our whistleblowing system ensures anonymity and data protection. The tool is available in nine languages. In an effort to ensure accessibility for all workers throughout the organization, we are assessing the need to make the tool available in additional languages.
Before it was launched, we collected feedback from various stakeholder groups and their representatives. For example, the German Works Council was consulted in the design phase and before implementing the whistleblowing tool. They agreed to its implementation, being satisfied that it provides effective feedback and ensures the protection of whistleblowers from retaliation. Furthermore, representatives from the Human Resources organization of various countries also gave their feedback on the design of the tool before it went live.
An external party has evaluated the dormakaba whistleblowing tool against the effectiveness criteria set out in the UN Guiding Principles on Business and Human Rights, which were mostly met, and the Global Compliance department reviewed the tool against the requirements of the newly adopted German Supply Chain Due Diligence Act during a recent update.
Global Compliance launched a communication campaign to familiarize our employees with the tool and its usage. The campaign included print media (poster campaign) for local implementation to reach production workers. Our Code of Conduct and the pre-departure phase training package for foreign migrant workers also include a detailed description of our reporting channels.
Lastly, we ask whistleblowers for their feedback on the design of the whistleblowing tool, e.g. accessibility and ease of use. All feedback is consolidated and considered in the regular system updates. The Global Compliance department tracks the implementation of the agreed remediation measures.
Policy commitment
In addition to our Statement of Commitment on Human Rights, our Responsible Labor Directive and the specific Zero Recruitment Fees Directive lay out our policy commitments on human rights-relevant topics of labor conditions for our workforce. The directives give more concrete guidance and set minimum standards on topics such as freely chosen employment, working hours, workers' accommodation, and responsible recruitment on a global level.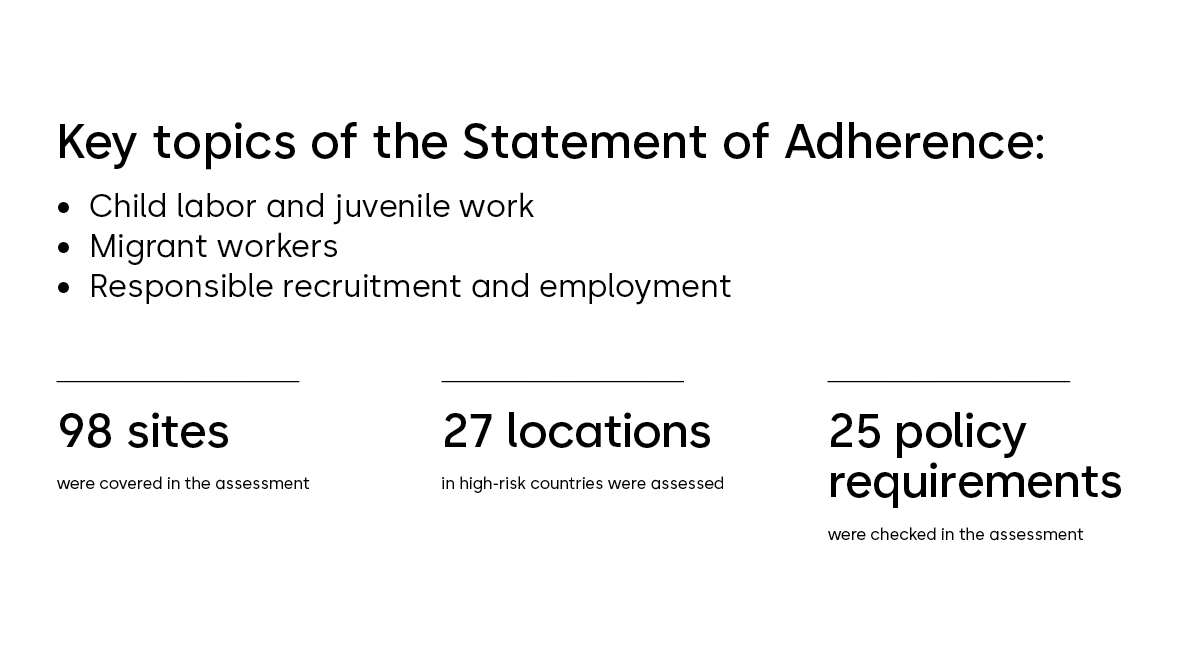 Embedding our Responsible Labor Standards in daily business
To ensure adherence to the standards contained in the Responsible Labor Directive and the Zero Recruitment Fees Directive, we launched a project to measure the level of compliance with the standards at each dormakaba location, regardless of whether it was an office or a production site, or the number of employees based there.
The project started with a series of workshops for regional and country-level Human Resources leadership teams in charge of managing the labor standards of the different dormakaba sites around the world. Once the Human Resources organization was familiar with the standards and questions had been clarified, Corporate Sustainability sent out the Statement of Adherence – Self-Assessment Questionnaire.
We achieved a 100% participation rate, gaining valuable insights into the situation on the ground and discovering gaps in the Directives' level of implementation that will serve as the basis for designing future due diligence measures. The results of the assessment also enabled us to calculate a social risk score for each dormakaba site, which in turn will become a fundamental pillar of our Human Rights Risk Management System.
Thanks to this project, we have raised awareness of the Directives and the overall dormakaba due diligence strategy throughout the company, thus supporting much wider implementation of the Responsible Labor Directive and Zero Recruitment Fees Directive on the ground.
Our activities
During the current strategic cycle (2021–2027), we are focusing our efforts regarding the protection of human rights on the following activities beyond the due diligence processes mentioned aboved:
Ethical recruitment trainings

Cobalt traceability

Respecting the right to water
Ethical recruitment trainings
Based on the tools and training modules developed by the Responsible Labor Initiative, by 2027 we commit to providing ethical recruitment trainings for our labor agents in sending and receiving countries where we recruit foreign workers. This includes but is not limited to migration corridors between Nepal, Myanmar, and Malaysia, and between Taiwan and the Philippines. The aim of the trainings is to protect and reduce the risk of forced labor for migrant workers. Implementation is planned for FY 23/24.
Cobalt traceability
We are aware that the mining of cobalt is often linked to human rights violations, including child labor, especially when sourced from the DRC region. As a company procuring electronic components, we must take action to increase transparency in our supply chain, regarding human rights violations during the mining of high-risk minerals. Therefore, it is our goal to ensure supply chain traceability for minerals with a high-risk of child labor by 2027.
In the first phase of our cobalt traceability work, we started consultations with human rights experts, in partnership with the University of St. Gallen, we also developed a study – Report on Cobalt Traceability – to gain deeper insight into tracing cobalt in fragmented supply chains related to the electronic components that we use in our products. The study assessed typical human rights risks, including child labor, as well as governance and traceability challenges.
The report sheds light on the key actors and practices involved in the sourcing process of cobalt. It provides a detailed overview of the upstream part of the cobalt supply chain, as well as the actors that participate in the extraction and handling of this mineral. Numerous sustainability and supply chain professionals contributed their expertise to the report. They shared practices and actions they believe would have the potential to improve labor standards and prevent human rights violations in cobalt supply chains. The study is now available to the general public and we hope the insights will help other companies to improve their understanding and management of the human rights risks linked to their cobalt supply chains.
During FY 22/23, we continued with stakeholder dialogues, inviting key suppliers to open discussions to gain greater visibility and a deeper understanding of the upstream parts of our cobalt supply chain. Our aim with the dialogues is to galvanize support among our supply chain partners so we can increase the pressure at the "choke points" of the supply chain (e.g. metal smelter or refiners).
After communicating the main findings of the first phase to all participant suppliers, we will revisit the project to include more suppliers and scale up our efforts.
Respecting the right to water
Water consumption data for all locations within the scope of our reporting are available in our ESG Performance Table.
We recognize that the human right to water entitles everyone to have physical and financial access to sufficient, safe, and acceptable water for personal and domestic use. As part of our obligation to respect this right, we assess the level of water scarcity in areas where we operate. The latest analysis revealed that approximately 40% of our sites have the potential for high to extreme water stress, defined as a "water demand to supply ratio of 40% or greater for the respective municipality". The water stress analysis is based on the two databases Aqueduct Water Risk Atlas by the World Resources Institute and AQUASTAT by the Food and Agriculture Organization. Seven manufacturing sites have been found to have (1) high or extreme water stress, and (2) high water consumption relative to other sites.
Water stress level by sites*
As part of our Sustainability Framework, we committed to establishing water stewardship programs in areas of high water scarcity, with no absolute increase in water consumption and reducing water intensity by 28% by 2027 (baseline 5,086 m3 absolute consumption and 25.5 L/hours worked in FY 19/20). Although in FY 22/23 we have reached this target ahead of schedule, we will continue to monitor in the coming years to ensure that the level remains within the target threshold in 2027.
Below are some examples from FY 22/23 of the water consumption reduction initiatives implemented to achieve this target:
At our plant in Suzhou (China), we introduced water-saving tap nozzles to reduce water consumption when washing hands. The tap nozzles installed use about 70% less water compared with the normal tap nozzles used before. Additionally, the plant installed a new coolant machine that can distill water for re-use from the wastestream and which separates residual oil for external treatement. The machine can recycle about 80% of the process water.

Our facility in Lima (Peru) has continued with its implementation of a domestic water treatment plant. Thus far, the plant has been able to recover a monthly average of 40% of the water consumed for domestic use, which represents a saving of 25% of the total water use in this location compared with the prior financial year. Water meters are also being installed to continue with a comprehensive management plan for industrial water treatment.

In our plant in Nogales (USA), a recovery system for the water used in the fire suppression system was installed ,to prevent water being sent down the drain. Since the system was installed in October 2022, this location has started saving an average of 90 m3 of water per month compared with the monthly average of the prior year. This value represents about 20% absolute water savings compared with the prior year.

In FY 22/23, our production plant in Singapore achieved a 16% improvement in water usage by measuring the water flow rate and adjusting all its water fittings.

Lastly, our plant in Rocky Mount (USA) started an initiative to reduce the usage of city utility water. This program involves reusing wastewater from the plating process, and reusing groundwater to reduce the need for utility water. As a result, water consumption has decreased by 26% compared to the prior financial year.
Outlook
During the next financial year, we will focus on ensuring adequate implementation of the human rights standards throughout the organization and further embedding these standards in different business processes, such as in Mergers & Acquisitions or Internal Audit.
We will continue carrying out social audits at those dormakaba sites that are categorized as high-risk on the basis of our Human Rights Risk Management System and developing mandatory corrective actions to address any issues identified.
Together with the Procurement function, we will roll out a supplier risk assessment system to be applied in the pre-onboarding phase of the supplier relationship. Currently, our supplier risk categorization takes place after entering abusiness relationship with suppliers, and this new process will ensure that our responsible procurement practices and standards are shared more proactively at the on set of the business relationship. We will also develop strategies tailored to mitigating the risks posed by specific categories of suppliers – such as subcontractors and labor agents. A training module on ethical recruitment procedures for labor agents will be developed and key service providers will be invited to participate.
Due diligence work related to conflict minerals and cobalt will continue to be a priority on our agenda. With our new Statement of Commitment on Responsible Minerals Sourcing, we have one clear set of guidance to help all suppliers understand our expectations when it comes to tackling the human rights risk in our minerals supply chains. Continuing with supplier dialogues on cobalt traceability will also increase the visibility of the upstream parts of our supply chain, thus facilitating due diligence efforts.
Training and capacity building will also be central to our strategy moving forward. We believe that only when employees are familiar with their rights can they react in the event of infringements. We will therefore, work to educate the entire organization on the labor standards they are entitled to enjoy and the protections at their disposal.
Finally, the seven sites under the scope of our water stewardship target have several initiatives planned to reduce water intensity in FY 23/24. This will include the installation of water meters to effectively monitor water usage and for leaks. Additionally, installing water-saving tap nozzles, water-saving toilet flush systems, and drip irrigation gardening systems will continue. Planned fire system and cooling tower systems upgrades will also reduce water use. It is also critical for us to continue to focus on building employees' awareness of the careful use and preservation of water.