Training & Education
12 min
Employee development is vital to maintaining and improving the skills of our workforce and the quality of our offering.
Our approach
Today's dynamic and globalized world requires new competencies. At the same time, many industries face serious skills shortages, especially in the areas of information technology and digitalization. Employee development is vital to maintaining and improving the skills of our workforce and the quality of our products. This is especially true for a technology-driven company like dormakaba. We want to offer careers instead of jobs and to prepare our employees for the fast-changing world. This improves their motivation and performance on the job, and increases their long-term employability. We will continue to invest in the development of both our employees and business leaders.
Our activities
We offer various training and development programs for our employees. While we apply some of these programs on a consistent global basis – particularly leadership development – others are developed at the regional or country level to serve local needs.
We regularly gather and evaluate participant feedback after training sessions in order to maintain and continually adapt the quality of our training and education programs. In addition, our training programs are regularly evaluated as part of external audits for ISO 9001 certification. If a negative trend is identified through this audit process, management meets to review the root cause and determine any potentially required remediation, which may include increased communication and/or modifying the training program.
Our goal is to increase average training hours to 20 hours per employee by 2027 (baseline 13 hours/FTE in FY 2020/21). To provide our staff with the competencies they require to perform their tasks safely and efficiently, and to support their career advancement, dormakaba focuses on three areas:
Leadership development

Individual development and career management

Vocational and technical training
Leadership development
In line with our strategy and ambition, we aim to have the best leaders in key positions. Therefore, we designed and deliver core leadership trainings, like Leading for Success, Leading Leaders, and individual executive coaching. Furthermore, we also continued to offer both agile and classical project management trainings as standard curricula. During FY 2021/22, a total of 268 employees took part in a leadership development program.
Our management development programs, the Advanced Management Program (AMP) and Talent Development Program (TDP), aim to develop the future leaders of the company. The AMP focuses on further strengthening the leadership and business expertise of existing successful managers, while the TDP focuses on high-potential employees. Both programs are co-facilitated by our Executive Committee members and supported by faculty from external business schools. The second module of the bi-annual AMP and TDP programs took place in November 2021 with 32 participants from across the globe. The TDP program had a female representation of 50%. The agenda included leadership, design thinking and innovation, and M&A. All participants were offered a mentor at senior management level after the program. Due to the success of the program, we are planning to continue it in future fiscal years.
Individual development and career management
Our combined performance and succession management process known as Perform & Grow provides a common framework for measuring and managing performance and potential. The objective-setting is based on the principle of Objectives and Key Results.
In FY 2021/22, we extended the number of users of Perform & Grow to 4,380 employees (approx. 500 more compared to the previous financial year) and will continue with further rollouts in the coming years. Following the launch of the Shape4Growth strategy and the subsequent changes to our operating model, all EC-1 positions worldwide have been evaluated with regard to their value (job evaluation). The evaluated positions define the basic framework of a new job architecture and are the foundations of career paths for managerial positions as well as expert positions. This is the basis for robust Career Management and is relevant to current employees and future career steps. In addition, we extended the number of licenses for LinkedIn Learning and Coursera to 750 users, which offers self-paced learning opportunities across a wide range of subjects.
Vocational and technical training
In today's rapidly changing world of work, the importance of lifelong learning is steadily increasing. For our business success, it is essential that our employees have the relevant skills for their work. The training we provide covers topics such as lean management, health and safety, and product offerings. Additionally, the increasing digitalization of our products and services also requires new competencies – for example, on big data analytics and artificial intelligence. To ensure that our employees have the relevant skills in the long term, we continue to invest in their vocational development and in promoting their talents.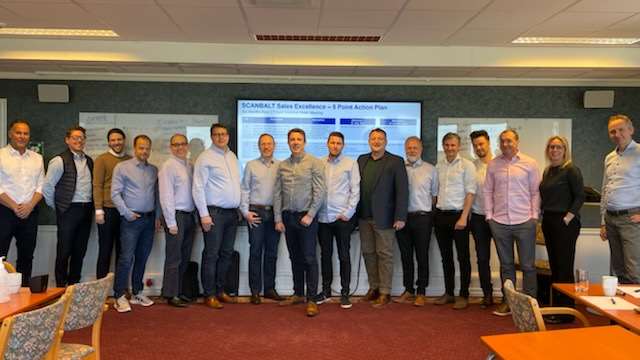 Sales Excellence Program
In FY 2021/22, we continued our Sales Excellence Program to provide our sales organization with information, metrics, and tools across the sales process to help them achieve business growth and drive customer centricity.
Region Europe & Africa organized ten sales management trainings for 110 managers in English, French, and Russian. Furthermore, a core skills training was delivered in the Scandinavian countries, South Africa, France, the UK, and Ireland to 212 sales employees. At the same time, we executed a "train the trainer" program for employees in Spain, Italy, and the Region Asia Pacific. From the Asian region, 52 sales leaders have been trained as facilitators, who are now able to further train the over 500 sales colleagues in the region. Lastly, as part of a truly global focus on sales excellence, Region Americas also carried out three programs focusing on Virtual Sales Effectiveness, Sales Leader Effectiveness, and Seller Rep Effectiveness with 462 participants.
Our performance
Two topics characterized this financial year: first, the Covid-19 pandemic still had an impact on how we set up our learning and development portfolio. Accordingly, the content of pre-existing training formats was digitized on an ongoing basis. Second, the changes that resulted from implementing our new company strategy also played an important role. To support our employees in the change process, we offered different training courses on change such as Change Leadership and Dealing with Uncertainty and Change. The trainings were conducted by internal and external trainers and executive coaches. Furthermore, a network of around 140 change agents was established, to support the senior management in communicating the changes and implementing them within their business units. They were intensively trained over the course of three modules to prepare them for their tasks.
Below you can find the key results of our Learning and Development programs for FY 2021/22:
The average number of training hours per employee was 12 hours per year (versus 13 hours/FTE in FY 2020/21). The downward trend is attributed to lower levels of mandatory trainings related to compliance and Information Security.

Over 14,000 employees now have access to our Learning Management System (LMS). In total, 87% (12,429 employees) of the users who have access to the system completed at least one eLearning module in the past fiscal year, compared to 83% in FY 2020/21. This continuous improvement is especially noteworthy, as in the past fiscal year there were no global mandatory compliance trainings rolled out.

325 new eLearning modules have been added, and 463 classroom courses and 269 webinars have been offered on the platform. These were held both virtually and gradually also in face-to-face form. This reflects an increase in both eLearning (+44) and classroom courses (+79) in comparison with the previous fiscal year. Of the new training courses provided, 61% are product-related, which is a significant increase of 20% compared to last financial year.

Combined, the compliance-related training activities (including those on the Code of Conduct, antitrust, anti-corruption, and information security) had 7,939 participants, making up 38% of all training completions. Many of these topics were introduced in the past and continue to be assigned to new employees.
Outlook
Change management will continue to be an important part of our work in the new fiscal year. We will focus on further nurturing the Change Agents Network and delivering skills trainings needed for the successful implementation of the company strategy, Shape4Growth.
Furthermore, we will increase cross-regional collaboration in training design and deployment by establishing joint governance for trainings, in the form of the dormakaba Learning Hub. It aims to create synergies by using standardized training content (with the option to localize if needed) and utilizing the same technology and platforms, reducing the number of redundant applications. Finally, during FY 2022/23, all employees with access to the LMS can have access to LinkedIn Learning.
In general, establishing dormakaba-specific eLearnings will play an essential role in reaching many audiences on diverse topics. To date, the following eLearnings have therefore been planned:
As mentioned in our Diversity & Inclusion chapter, we are launching an eLearning for Managers - called Diversity & Inclusion at dormakaba - to create an understanding of unconscious bias and how to foster a more inclusive culture. We will also offer additional trainings such as Managing Micro Aggressions.

Two global Sustainability eLearning courses to improve general understanding of sustainability, and our commitment, framework, and targets.

An eLearning on the company transformation through Shape4Growth, including the new Vision, Purpose, and Mission.

Regular release of Information Security-related micro-learnings as part of our ongoing efforts to stay vigilant on topics such as phishing and cybersecurity.