Fair Employment
15 min
We strive to create an engaging and fair working environment, where the rights of our employees are respected and where our employees can leverage their strengths and build their skills.
Our approach
Our success is based on the passion and performance of our employees. It is their dedication to deliver excellent solutions to our customers that helps us maintain and further develop our competitive global position, which is why we have a strong focus on people in our corporate strategy. As a company with employees in over 50 countries, we aim to ensure an engaging working environment to be an employer of choice for current and prospective employees. We also ensure that we treat employees fairly and in accordance with our company values, and that we provide them with equal opportunities and fair remuneration.
Our approach towards our employees is governed primarily by our Code of Conduct, as well as by country-based labor regulations and the local employee handbooks, where available. Our Group-wide Responsible Labor Directive regulates the minimum business standards during recruitment, hiring and employment regarding freely chosen employment, working hours, wages, and benefits, the prevention of child labor, freedom of association, and workers' accommodation. Furthermore, the Zero Recruitment Fees Directive regulates the business standards regarding fees and costs associated with recruitment governed by the Employer Pays Principle. The Directives came into force in September 2021.
Key activities
Engaging our employees
High employee engagement has been proven to lead to increased productivity, fewer workplace accidents, and improved customer satisfaction. A key method for supporting employee engagement is to ensure a culture of open dialogue across the organization.
To monitor any changes in the level of employee engagement, we use the IBM global norm1). Our target is to maintain our Employee Engagement score at or above the IBM Global Norm (71% favorable) until 2027. In the latest Employee Engagement survey "dormakaba dialogue" in 2020, we achieved a score of 70%. The next assessment is planned for 2023.
In FY 2021/22, we focused on including employees in the change process resulting from the new company strategy Shape4Growth. We used employee surveys, known as Pulse Checks, to understand sentiment towards the change process itself and the perceived impact of Shape4Growth in general. For each round of Pulse Checks, a new random representative group of dormakaba employees is selected to take part. The first Pulse Check was conducted in March 2022 in 12 languages with a participation rate of 54%.
The main findings were:
High level of agreement that the changes connected to Shape4Growth are necessary and will make dormakaba more customer-centric

Predominantly positive feelings towards the Shape4Growth process

High level of pride in working at dormakaba

Need for further clarification of the meaning of the change for each individual employee
The IBM global norm is a composite of employee responses from 400 companies across organizations from all industries and all geographies. It provides comparative results that represent the average scores across all organizations in the IBM norm database running employee surveys for multiple years.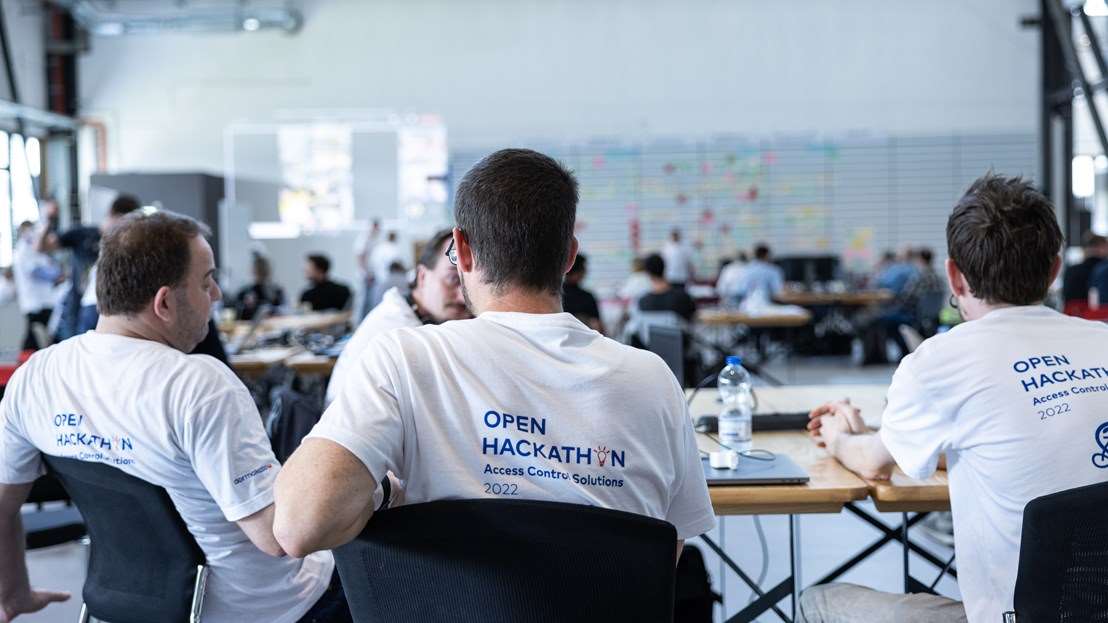 Innovation through teamwork
At the Access Control Solutions Hackathon, employees can work for two and a half days on a self-selected topic connected to the dormakaba business. This can be a challenge from their customers' or their own everyday life, a known problem, or a creative idea. The Hackathon offers them room to question the status quo, networking opportunities, and the chance to implement their ideas away from the daily work routine. This allows the participants to move outside of roadmaps and current processes, with the aim of developing innovative solutions for customers and markets.
The first open dormakaba Hackathon took place in 2021, bringing together around 70 colleagues from various business units. The jury tested the ideas with specific critical questions to check their quality and suitability for the business, then voted for the winners in three categories. The winner of the fourth category was selected by the audience. As a result, six ideas were selected to become part of the portfolio of dormakaba. One of these ideas was launched in January 2022, while the others are still under development.
After last year's success, the Hackathon was organized for the second time in Rümlang (Switzerland) with around 65 colleagues from all over the world.
"The hackathon represents many of the dormakaba values such as courage. The participants had to be courageous to introduce and showcase their innovations in front of the jury and their peers, which I find inspirational." - Andreas Haeberli, CTO of dormakaba and member of the Hackathon jury.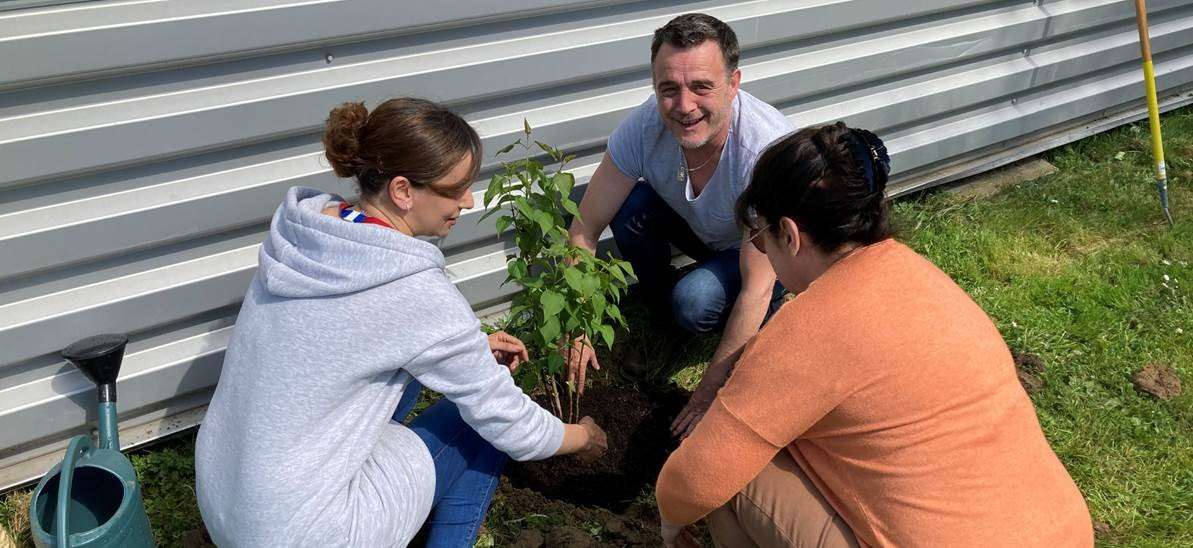 During FY 2021/22, another interesting employee engagement initiative took place in France, the Teamstarter program. Employees could publish improvement projects (including the objective, target and cost) on an online platform under the following five topics: Health & Safety; Society & Sustainability; Well-being at work; Customer experience; and Teamwork/collaboration. All dormakaba France employees had the opportunity to place virtual money behind projects that they thought would be worth bringing to life.
After 10 months, 23 projects were published and ten of them were realized. For example, employees created a garden and introduced yoga courses in the workplace, implemented touchless solutions in the building, and organized workshops on business-related topics. 70% of the employees of dormakaba France took part in the program, either as organizers or as voters.
Fair remuneration and benefits
We aim to establish fair compensation that is determined based on job function and relevant local market benchmarks. It is not influenced by personal attributes such as age, nationality, or gender. The global grading system ensures that functions are evaluated in a consistent manner across the organization. In addition, we provide locally specific benefits and welfare programs. In FY 2021/22 for example, we rolled out benefits during maternity, adoption, and paternity leave in the UK and introduced four weeks' paid parental leave for both mothers and fathers in the USA. As stipulated in the Group Compensation Directive, we refrain from offering excessively low wages (i.e., wage dumping).
An overview of best practice employment-related policies and benefits across the Group can be found in the Policies and Benefits Table.
Policies and Benefits
After having conducted social audits in Malaysia and Singapore, we were confronted with the fact that an especially vulnerable group, migrant workers, frequently pay fees to agencies, i.e. for the recruitment itself, travel, passport and visa processing. To protect them, we have developed improvement actions and the Zero Recruitment Fee Directive, which regulates the minimum business standards regarding fees and costs associated with recruitment and was published in FY 2021/22. It commits dormakaba to bear the costs associated with any services rendered by respective migrant worker recruitment agencies. Fees discovered to have been paid by migrant workers have since been reimbursed.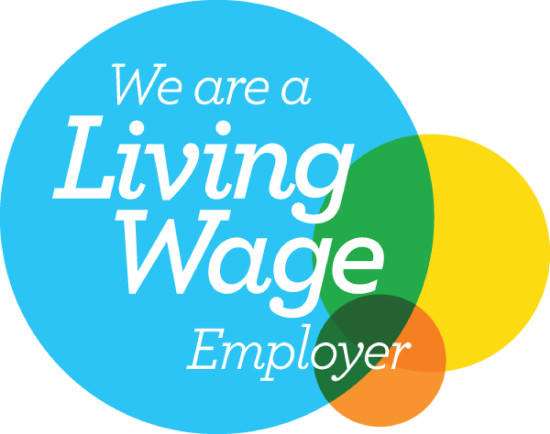 Closing the living wage gap
We started the global screening process to discover any living wage gaps for direct and contract workers, and in a few countries, for example in the UK and Peru, we have already started to develop actions to close discovered gaps.
In the UK, the process started back in 2013, when we agreed to gradually increase the pay for our lowest earning staff to be in line with the Real Living Wage (RLW), a sum higher than the statutory national minimum wage. In each annual salary review, this group received a higher percentage until we reached the target (£9.50 per hour) in 2020. Even during the pandemic, we increased pay for this group in line with the RLW by 2.2%.
After the results of an internal analysis proved that our employees' hourly rates were being paid above the minimum rates set by the RLW Foundation, as well as gaining commitment from our contractors, we acquired the Real Living Wage certification for our UK entity in FY 2021/22. We are committed to continuing to track and pay the RLW and ensure that our contractors also do the same. This commitment covers 594 headcounts and 86 contractors within our UK legal entities.
Employee attraction and retention
We strive to create a diverse and inclusive workplace, where everyone can be their authentic selves.
Diversity & Inclusion
We provide our employees with long-term professional development opportunities in order to attract and retain a qualified workforce. This is vital to the company's success. When filling open positions, promoting from within our own workforce is preferred.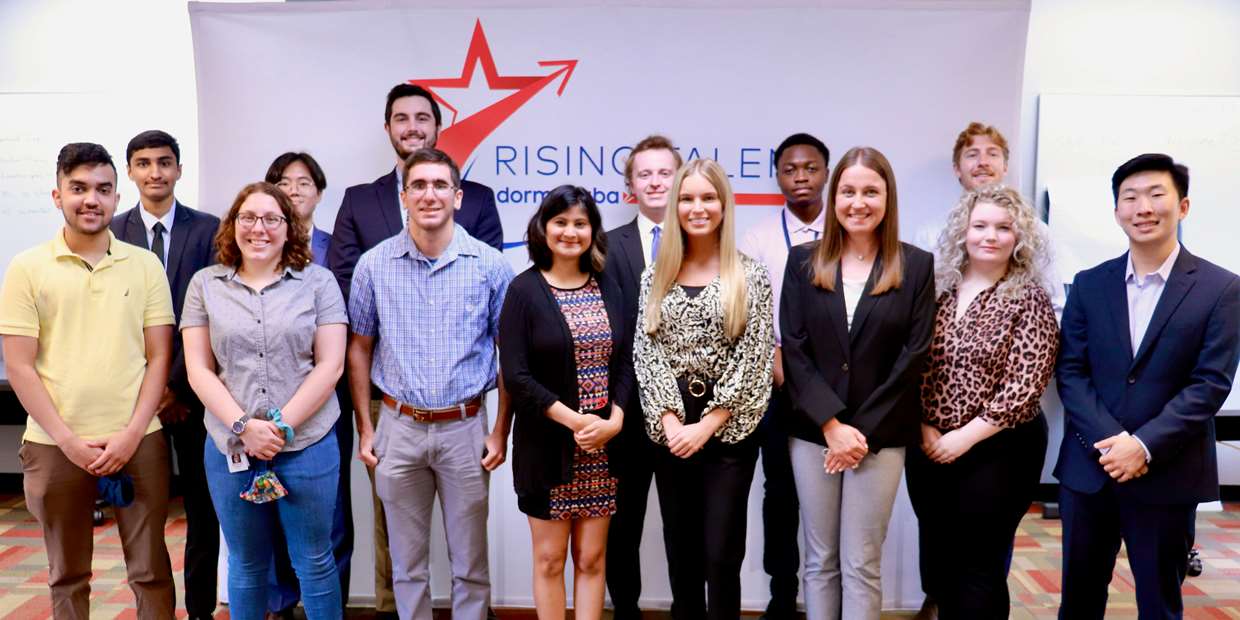 An employer of choice for emerging talents
We offer young talents challenging tasks in an environment where they can grow and feel appreciated. The dormakaba Rising Talent Development Program in the Region Americas gives interns the opportunity to gain experience in their area of study while working on projects that have a lasting impact on our team, customers, and community to make access in life smart and secure. During FY 2021/22, 27 interns (including apprentices, co-ops, and Early Talent Rotation Professionals) from Canada, the USA, Mexico, and Brazil took part in the program. Four stayed beyond the initial program and an additional five were hired as full-time employees. In June 2022, the new program was launched with 41 interns. The participants work together with various functions, including Engineering, Finance, IT, Operations, or Product Development, to mention just a few. Find out more about the program from the interns themselves in this video.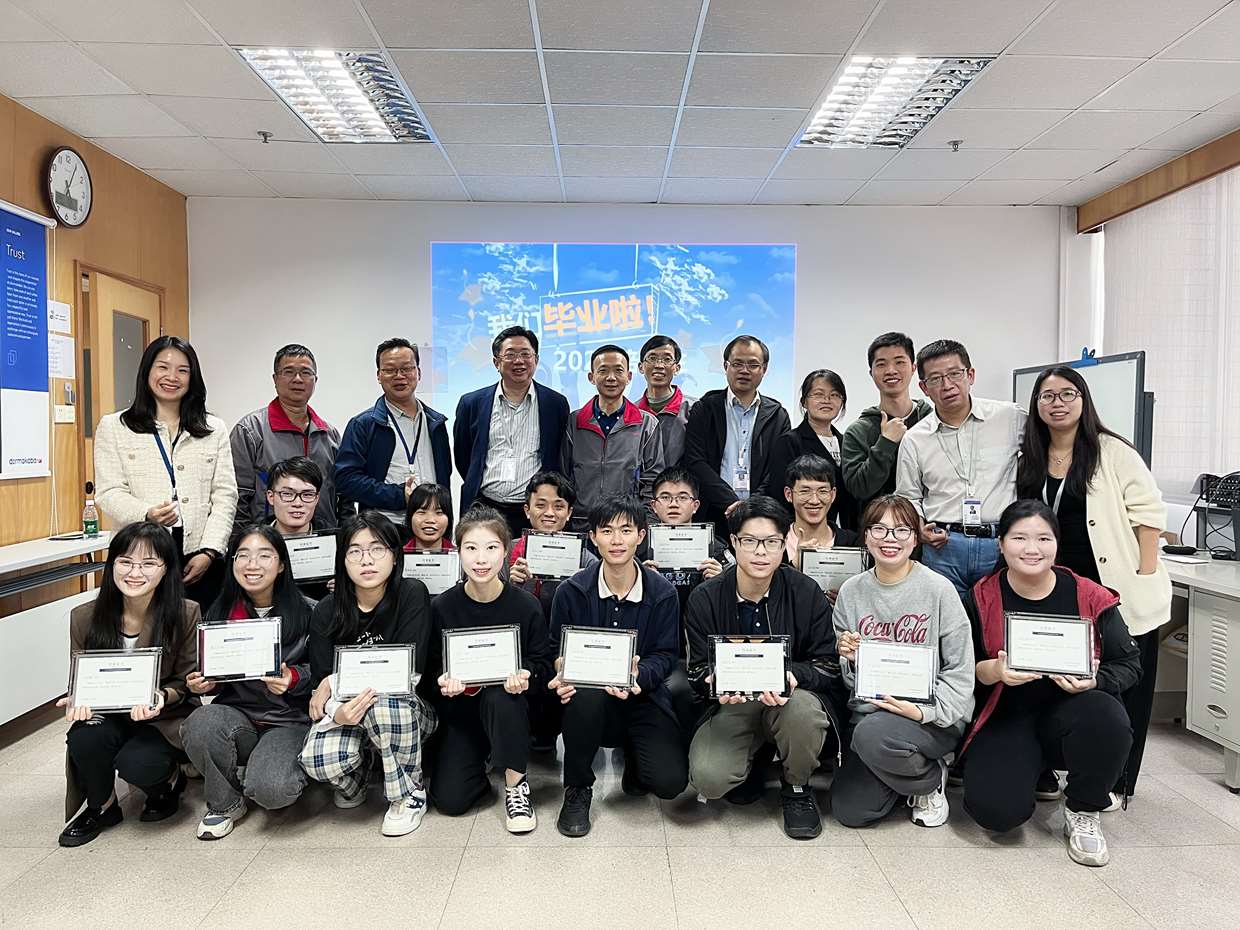 In FY 2021/22, we launched another successful graduate trainee program, Project Qingmiao in China, with 15 graduates from different universities and majors. The project includes four stages: starting your career, exploring business departments, production line practice, and business departments rotation, offering 10 months of blended learning experience for the participants. In April 2022, the trainees completed their graduation report and 13 of them were officially appointed to their posts. In the next financial year, we are planning to launch a Management Trainee Program at the same location. "Project Qingmiao" will continue to supply outstanding talent to support the growth of our Wah Yuet business.
Fluctuation
In FY 2021/22, a total of 2,560 employees joined the company and 1,975 left within the reporting scope. This corresponds with rates of 17% and 13% respectively, which reflects a higher joiner rate than leaver rate. This can be explained by the large number of joiners through acquisitions within the reporting period.
Employee fluctuation in Asia and the Americas was higher than in other regions, as in previous reporting periods. In the Americas, this is attributed to continued consolidation of manufacturing activities. The higher fluctuation in Asia Pacific is to be expected based on regional workforce trends.
In addition, in China, employees are usually appointed on the basis of fixed-term labor contracts before being eligible for an indefinite contract. This results in a temporal shift of the fluctuation rates for Asia Pacific and to a certain extent overall, since employees with permanent contracts joining and leaving dormakaba are counted only after their contracts have been converted (usually after the completion of two consecutive fixed-term contracts, in accordance with Chinese Labor Contract Law).
The workforce aged under 30 shows higher joining and leaving rates compared to the other age groups. This is consistent across all regions, and congruent with findings from a study on general workforce turnover trends periodically conducted by the human resources consulting firm Mercer.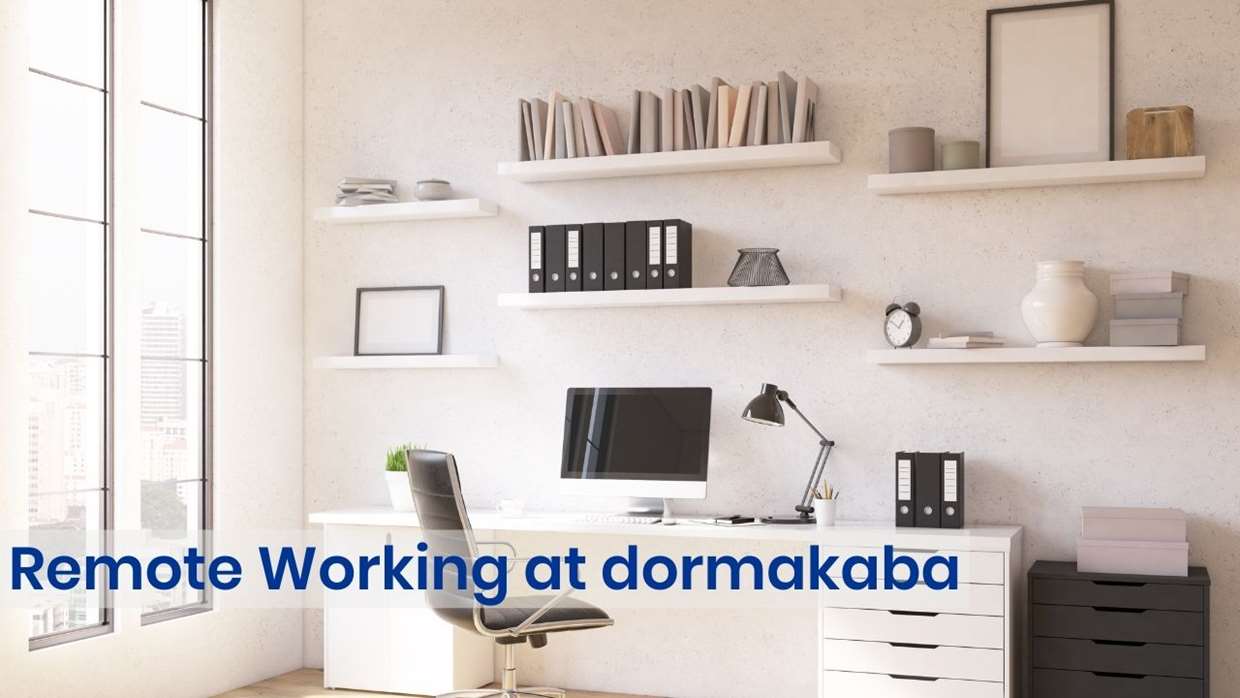 Providing more flexible working arrangements to attract talent
As we learn from the pandemic and look to the future, we recognize a desire for greater flexibility and for more options when it comes to deciding how, where, and when we work. This was confirmed in one of our recent employee Pulse Check surveys. Therefore, remote working has become a standard opportunity at dormakaba for tasks that can be done remotely.
So far 25 countries have put remote working policies in place; an additional five countries are working on their polices. The progress of the implementation was supported by a training initiative for managers and employees on working and collaborating remotely. For roles that require on-site presence, local organizations are exploring potential other forms of flexibility, for example changing shift systems in manufacturing or offering part-time work where feasible.
Outlook
In the upcoming financial year, one main focus will be on continuously supporting the business in the change process resulting from Shape4Growth. To gain further insights into this, another Pulse Check is planned for September 2022.
Also connected to Shape4Growth, we will introduce our new company culture. Newly defined behaviors will be integrated into all HR processes such as recruiting and onboarding, the Perform & Grow performance management process, career development, and learning and development. The development of the culture will be continuously measured in the employee engagement survey, dormakaba dialogue. The next survey is planned for 2023. Further, all existing Employer Branding material will be adjusted according to our new company culture, thereby extending our portfolio by adding additional image and video material of our employees which was produced during a photo and video shoot in FY 2021/22. Lastly, we will start the first local rollouts of the dormakaba career websites in Australia and Singapore.