Segment Key & Wall Solutions

5 min.
Despite strong negative impact from Covid-19 pandemic on sales, EBITDA margin kept at a good level
Operational performance
While the Key Systems Business Unit was severely affected by the pandemic, the Movable Walls Business Unit recorded sales and profitability above the previous year. Overall, the segment Key & Wall Solutions generated total sales of CHF 351.4 million in the financial year 2019/20, representing a year-on-year organic sales decline of 8.9%. EBITDA stood at CHF 50.5 million, 19.8% below previous year; the EBITDA margin came to 14.4% (previous year 15.7%).
While the segment experienced organic sales growth of 2.8% in the first half of the financial year 2019/20, both organic sales and profitability came heavily under pressure by the Covid-19 pandemic in the second half of 2019/20.
The EBITDA margin for the financial year 2019/20 was impacted by lower volume. Therefore, the segment has initiated swift mitigation measures to adjust costs for the lower volumes, including lower discretionary spending and the reduction of personnel expenses.
As part of the Group-wide cost savings and restructuring program to address the ongoing Covid-19 pandemic-related substantial volume contraction and to maintain operational and financial efficiency, Key & Wall Solutions in the fourth quarter of financial year 2019/20 has initiated specific measures to adjust capacities and costs. Measures include overall headcount reductions of around 350 full-time equivalents, which mainly consists of the rightsizing of its North American Key Systems business and further headcount reductions in Latin America, in India, in Malaysia and in Germany.
dormakaba news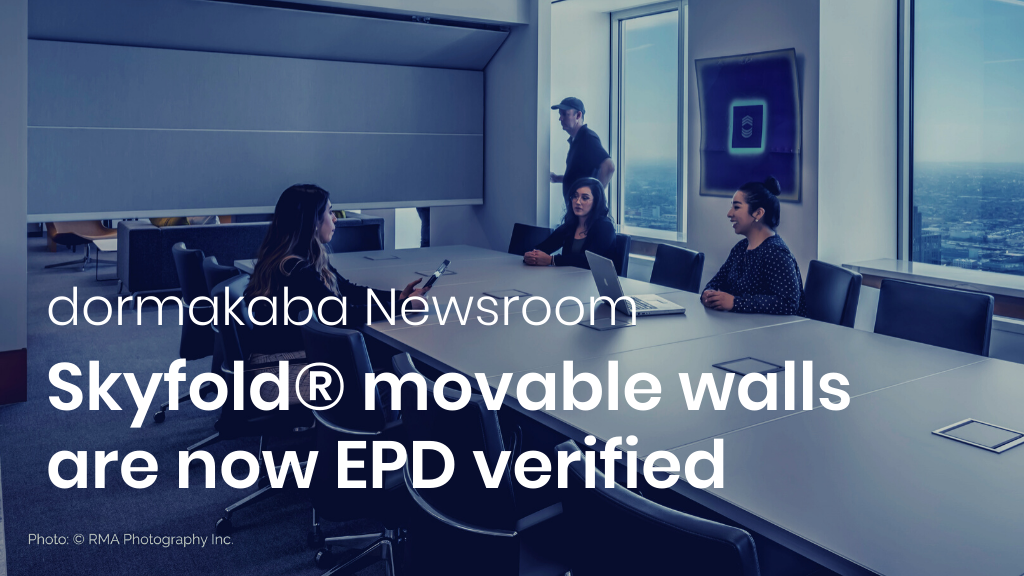 Read more
Market development
The Key Systems Business Unit was heavily impacted by the Covid-19 pandemic in the second half of 2019/20. April and May 2020 in particular were impacted by a sales decline of more than 60%, as major production sites in the US, in Italy, India, Columbia and Peru were unexpectedly and temporarily closed. Furthermore, regional lockdowns in most of the major business markets led to a significant decline in demand, which was particularly pronounced in India and Latin America. Sales were also impacted by an unprecedented slump in the global automotive industry, which is an important customer for the segment. However, the business unit saw sales increase in June 2020 above the low levels of May and April.
The Movable Walls Business Unit was impacted by a temporary shutdown of its major production sites in Canada and Malaysia, with the latter impacting particularly the sizeable Australian business. Moreover, customers have postponed some major projects due to regional lockdowns. Despite this challenging environment, the Movable Walls Business Unit achieved good organic growth in the financial year 2019/20, especially based on a strong performance of its US-based Modernfold business. The EBITDA margin in the financial year 2019/20 increased as well. The margin improvement was supported by a positive contribution from measures to increase the automatization of the production site in Ocholt (Germany) as well as by a strong performance of the Modernfold and Skyfold (Canada) businesses.
Outlook
Assuming no further disruptions related to Covid-19, the segment expects a sequential improvement in the first quarter of financial year 2020/21 versus the fourth quarter of financial year 2019/20 due to the suspension of regional lockdowns and because major end-consumer markets such as the automotive industry are showing first signs of recovery. However, there will be still a negative impact of Covid-19 on individual countries in financial year 2020/21. Therefore, sales for the first half of financial year 2020/21 for the segment will be below previous year's period which was not affected by Covid-19.

Sales in the Movable Walls business are expected to be driven both by good order intake and by a strong backlog of projects that could not be finalized in the financial year 2019/20.
Key & Wall Solutions will continue to adjust its cost base to compensate for lower demand. Additional cost savings and restructuring measures are in preparation and will put in place dependent on the economic development and on the duration and severity of the impact of the Covid-19 pandemic.
The segment sees growth potential for new products such as cost-effective automated movable walls which will be launched in autumn 2020. Key Systems is expected to further benefit from new digital solutions, including "MyKeys Safe", a digital wallet for residential and automotive keys that offers end users support for lost key situations, that has been successfully launched in 2019/20.
Key figures - segment Key & Wall Solutions
| | | | | | | | | |
| --- | --- | --- | --- | --- | --- | --- | --- | --- |
| CHF million, except where indicated | | Financial year ended 30.06.2020 | % | | Financial year ended 30.06.2019 | % | | Change on previous year in % |
| Net sales third parties | | 340.2 | | | 388.0 | | | –12.3 |
| Intercompany sales | | 11.2 | | | 13.9 | | | |
| Total segment sales | | 351.4 | | | 401.9 | | | –12.6 |
| Change in segment sales | | –50.5 | –12.6 | | 14.4 | 3.7 | | |
| Of which translation exchange differences | | –14.6 | –3.7 | | –1.6 | –0.4 | | |
| Of which acquisition (disposal) impact | | 0.0 | 0.0 | | 7.5 | 1.9 | | |
| Of which organic sales growth | | –35.9 | –8.9 | | 8.5 | 2.2 | | |
| Operating profit before depreciation and amortization (EBITDA) | | 50.5 | 14.4 | | 63.0 | 15.7 | | –19.8 |
| Average number of full-time equivalent employees | | 2,188 | | | 2,296 | | | |

Segment sales (in CHF million) - Key & Wall Solutions