Environmental Management
16 min
dormakaba seeks to reduce the environmental impact of production and to adhere to environmental laws and regulations.
Why it matters
Every business, government and individual has a role to play in meeting the goals of the Paris Agreement. For our part, dormakaba aims to reduce our energy consumption and related emissions. We use the latest scientific knowledge to guide a sound management approach. Our energy-intensive processes include melting, and aluminum and zinc die casting. We use these materials to manufacture numerous products including hotel and high-security locks, door closers, fittings and door handles.
Find out how Lean Management helps dormakaba save natural resources and reduce waste in this interview with Erik Saur, dormakaba Lean and Productivity Manager, USA
Read interview
Key activities
dormakaba seeks to reduce the environmental impact of production and to adhere to environmental laws and regulations. We focus on improving our management of environmentally related processes and on monitoring and reducing our energy consumption, carbon emissions, water consumption and effluents, as well as monitoring our waste disposal and recycling rates.
Environmental management is embedded at both the Group and local levels of our various production locations. Several locations have environmental officers, while others have incorporated environmental management into their quality assurance processes.
Our environmental management covers the following aspects:
Energy and emissions

Water and effluents

Waste
Energy and emissions
The emission of greenhouse gases, which are generated through the use of fossil fuels, is one of today's biggest challenges. dormakaba has signed a commitment letter to the Science Based Targets initiative to set a science-based, Group-wide carbon emissions reduction target by September 2020.
The first step to this will involve reporting our Scope 3 emissions more fully, as well as expanding the coverage of our Scope 1 and Scope 2 emissions to sites representing over 95% of employees. As a further commitment, we have set an interim carbon emissions reduction target of ‑5% tonnes of carbon dioxide equivalent (tCO2e) by the end of the financial year 2020/21 for the reporting scope and baseline of the financial year 2017/18.
dormakaba strives to continuously reduce carbon emissions and improve the energy efficiency of processes by reducing energy consumption and sourcing renewable forms of energy.
Energy consumption
Total energy consumption was over 247,000 MWh in the financial year 2018/19. Electricity and fuels for heating or manufacturing both play a crucial role in our production processes, constituting nearly 80% of total energy consumption. The remainder is associated with the fuel consumption of our vehicle fleet.
Many components used to create our products are manufactured in-house, and purchased parts require further processing, both of which impact total energy demand. As a result, we focus many of our energy saving initiatives in this area.
In the financial year 2018/19, energy saving initiatives were being implemented at nearly 40% of the sites in the reporting coverage. This work included retrofitting facilities to LED lighting systems; upgrading equipment such as air compressors, as well as milling and key biting machines; the optimization of heating and cooling systems (installation of rapid doors, heat recovery, renewal of circulation pumps, radiators and valves); and the procurement as well as on-site production of renewable electricity.
As a result, we realized total quantifiable annual energy savings of approximately 1,650 MWh for the sites covered in the scope of this report. In addition, over 47,000 MWh (37%) of the electricity that dormakaba consumed came from renewable sources. In our Access Solutions (AS) EMEA segment, this share already reached over 81%. All other segments showed a percentage of electricity consumption from renewable resources ranging from around 25‑40%.
Examples of energy reduction activities in the financial year 2018/19 included:
AS AMER paid particular attention to changing out older facility lighting with LED systems. Some sites focused on identifying and repairing leaks in the compressed air systems that supply the manufacturing floors. The Indianapolis facility, for example, replaced many of the common air nozzles for the compressed air system with high efficiency nozzles.

AS DACH focused on retrofitting the lighting in the production hall to LED, reducing energy consumption from 165,240 kWh/a to 106,920 kWh/a, a savings of 35%. Optimization of the air ventilation system further reduced energy consumption from 74,000 kWh/a to 47,500 kWh/a, another savings of around 35%.

The Key Systems business unit's facility in Rocky Mount (USA) developed an energy audit system to identify equipment and facility infrastructure that was not energy efficient. The facility will now work to improve this equipment and infrastructure, with a target to reduce energy consumption by at least 5% to meet the set target.
| | | |
| --- | --- | --- |
| in MWh | | 2018/19 |
| Energy consumption | | 247,598 |
| Electricity | | 127,130 |
| District heating | | 1,904 |
| Heating fuels total | | 68,652 |
| Heating oil, kerosene and diesel for backup generators | | 8,492 |
| Natural gas | | 58,956 |
| LPG/propane | | 1,204 |
| Vehicle fuels total | | 49,913 |
| Diesel | | 40,226 |
| Gasoline | | 6,130 |
| LPG/propane | | 3,430 |
| Other vehicle fuels | | 126 |
Energy use (in MWh)

Purchased electricity by source (in %)
Energy use by segment (in MWh)
Purchased electricity by segment (in MWh) *
Percentage of purchased electricity from renewable sources by segment (in %) *
Greenhouse gas emissions
In the financial year 2018/19, our total greenhouse gas emissions (GHG) amounted to over 81,000 tCO2e. More than two thirds were emitted as a consequence of electricity consumption, followed by heating and vehicle fuel consumption, and volatile as well as process gas emissions. Climate-related initiatives implemented during the reporting year resulted in total annual savings of approximately 13,240 tCO2e (16% of our total footprint).
Due to the implementation of energy saving initiatives outlined above, we expect to reduce our annual GHG emissions by approximately 428 tCO2e. We also worked diligently to source renewable electricity or generate own renewable energy wherever feasible, leading to an annual emissions avoidance of approximately 12,800 tCO2e.
Examples of GHG reduction activities in the financial year 2018/19 included:
Segment Access Solutions (AS) DACH facility in Bühl (Germany) switched to green electricity in early 2019, saving approximately 359 tCO2e per year. In Ennepetal (Germany), ongoing renovations to the heating systems (including a fuel switch from heating oil to natural gas) reduced their total carbon emissions by 25%.

Our Key Systems facility based in Greater Noida (India) has installed a solar power plant on its roof ahead of schedule, with a projected annual generation capacity of approximately 350 MWh solar power for production processes. Similarly, our AS APAC facility in Chennai (India) installed solar panels, reducing their carbon emissions by 16%.
Greenhouse gas emissions by source
(in tCO2e)
Scope 1 and Scope 2 emissions
(in tCO2e)1,5

Greenhouse gas inventory calculated in accordance with the WRI/WBCSD Greenhouse Gas Protocol. Emission factor sources: UK Defra (2015), US EPA eGRID (2017), Frischknecht (2017).

Scope 1: direct greenhouse gas emissions from sources owned or controlled by dormakaba

Scope 2: indirect greenhouse gas emissions from sources owned or controlled by another entity, as a consequence of the company's activities

The greenhouse gas emissions associated with electricity consumption are reported according to the "market-based approach", as defined in the Greenhouse Gas Protocol Scope 2 Guidance. When reported according to the "location-based approach", the emissions totaled 95,104 tCO2e.

Scope 3 emissions are additionally reported in dormakaba's submission to the Carbon Disclosure Project (CDP).

Greenhouse gas emissions by segment
(in tCO2e)


Water and effluents
Early in the financial year 2017/18, dormakaba analyzed the water stress levels for our main manufacturing sites. The analysis revealed that one in three sites has the potential for high to extreme water stress, defined as a "water demand to supply ratio of 40% or greater for the respective municipality". The data stems from a geographical analysis of water stress at catchment level by the year 2020 for dormakaba main manufacturing sites. The water stress analysis is based on the two databases Aqueduct Water Risk Atlas by the World Resources Institute and AQUASTAT by the Food and Agriculture Organization. Appropriate action plans for those sites having (1.) high or extreme water stress, and (2.) high water consumption relative to other sites are under development, as part of our human rights roadmap in view of the right to clean water and sanitation.
Water stress level by sites
The majority of our total water consumption is municipal water used for cooling, manufacturing processes, and for sanitation purposes. Wastewater is mainly discharged via the local municipal sewerage system, in compliance with local requirements and treated by third-party companies where necessary.
Segment Access Solutions (AS) AMER developed a centrally managed approach to environment, health and safety in the financial year 2017/18. In order to achieve reductions in water consumption, the facilities tracked water use on a monthly basis and worked to identify feasible measures. Based on this approach, the segment launched 4 projects and facility improvements to reduce water and effluents.
Some of those projects included installing closed loop cooling systems on certain equipment, where previously the cooling water was immediately discharged. Additionally, replacing older equipment with new efficient systems has helped to realize water use reductions. One replacement of a parts washer system in Indianapolis resulted in a 76% decrease in water use for that process, as well as energy and chemical use reductions.
Water consumption
Wastewater discharge

Waste
Next to water consumption and effluents, waste management is of key importance during the electroplating, surface finishing and painting processes. Our filter systems ensure that potentially hazardous substances are not released externally.
Toxic waste arising from painting and electroplating are disposed of as special waste. In addition, scraps from turning and milling or punching are recycled, and returned, for example, to the suppliers of the raw materials. Certified disposal companies are commissioned to dispose of industrial waste and chemicals, and to recycle materials.
The generation of different waste streams is an inevitable consequence of our operations. We monitor our waste by treatment method and by waste type. Approximately 76% of the waste stream was recycled, reused or recovered (including raw materials and energy recovery) in financial year 2018/19. At about 57% by weight, the largest proportion of waste is scrap metal.
Examples of waste activities in financial year 2018/19 included:
Each manufacturing facility in the Access Solutions (AS) AMER segment has set local reduction targets for waste generation and initiated projects to achieve these targets. The Detroit facility implemented new packaging which is biodegradable, backyard compostable and water soluble. The Indianapolis facility made several wastewater treatment improvements, resulting in a near 40% decrease in the generation of a hazardous waste sludge. This facility also changed the sanding belts used in the finishing/polishing operations, resulting in the elimination of a hazardous waste stream and an increase in sanding belt life. Our other facilities have found ways to divert waste streams from a typical landfill to an outlet for recycling. This includes the Lake Bluff facility, which has found a recycler for its oversized pallets.

AS APAC's manufacturing facility in Taishan (China) invested in a treatment system to filter out water from electroplating sludge, which is estimated to have reduced sludge waste disposal from electroplating by 40%.

AS DACH's manufacturing facility in Ennepetal (Germany) separates nearly 100% of all waste across 43 waste categories. A color-coding system shows employees the allocation of waste types for faster orientation, ie. a color-coded poster indicates the type of waste, including information on what may and may not be disposed of, using photographs. This initiative has resulted in a high recycling percentage of over 95%.
Non-hazardous waste by type
(in metric tons)
Waste by treatment path
Hazardous waste
by type (in metric tons)
Our performance
To ensure our environmental management is state-of-the-art, we refer to international standards for environmental management (ISO 14001) and energy management (ISO 50001). All manufacturing sites that have more than 100 employees, and non-negligible hazardous materials in use, are expected to maintain an environmental management system based on ISO 14001. Those with production process that could potentially seriously harm the environment are required to certify their environmental management system. These processes include plating, anodizing, polishing, galvanizing, painting and casting.
Today, 32% of the manufacturing sites covered in this report already benefit from environmental standards set forth by ISO 14001 certification. We aim to increase this total to over 50% by the end of the financial year 2020/21 (status and target based on reporting scope 2017/18).
In the financial year 2018/19, our global foundry plant in Melaka (Malaysia) and our manufacturing facility in Taiwan, for example, became ISO 14001 certified and handle environmental issues according to the international standard.
Further, all manufacturing sites are expected to maintain an energy management system in accordance with ISO 50001 by the end of the financial year 2021/22. Our manufacturing facility in Chennai (India) has just received ISO 50001 certification, becoming the fourth location Group-wide to achieve this standard.
| | | | | | | | | |
| --- | --- | --- | --- | --- | --- | --- | --- | --- |
| Segment | | ISO 14001 Certificate | | Maintain Environmental Management System | | ISO 50001 Certificate | | Maintain Energy Management System |
| AS AMER | | 3 | | 8 | | | | |
| AS APAC | | 2 | | 2 | | 1 | | 2 |
| AS DACH | | 6 | | 6 | | 3 | | 3 |
| AS EMEA | | 7 | | 10 | | | | 4 |
| KWS | | 1 | | 3 | | | | 2 |
| Total | | 19 | | 29 | | 4 | | 11 |
| % locations covered in reporting scope* | | 26% | | 40% | | 5% | | 15% |
| % employees covered (versus Group-wide FTEs) | | 36% | | 41% | | 9% | | 25% |
There have been no incidents of non-compliance with environmental laws or regulations in the 2018/19 financial year.
Outlook
We continue to advance our global environmental activities. Access Solutions (AS) AMER will continue to set annual reduction targets for energy use, water use and waste generation with a focus on implementing sustainability projects, reviewing new processes and products, and sharing best practice throughout the segment. AS DACH will focus on using energy meters to set warning thresholds in energy use, so that any unusual deviation in energy consumption is reported and corrective actions are promptly taken to avoid unnecessary energy consumption.
How Lean processes help reduce environmental impact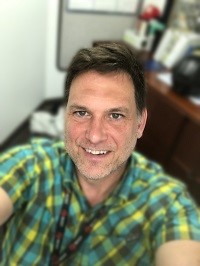 An interview with Erik Saur, dormakaba Lean and Productivity Manager, USA
dormakaba emphasizes Lean manufacturing, which is a systematic method of reducing waste in manufacturing processes and for practicing continuous improvement on a daily basis. You have been working on Lean initiatives for 11 years at our company. Can you give us an example of how Lean manufacturing helps us take care of natural resources?
Two recent Lean initiatives have helped us reduce the environmental impact of our production processes in Indianapolis, USA. In one initiative, we focused on replacing a robotic finishing abrasive which had to be disposed of as hazardous waste. A team of five people, including associates from our finishing/polishing department, worked for several months to test alternative sanding belts. The evaluation involved changing robot programming, feed and speed rates, pressures and angles, as well as testing longevity of the samples. Ultimately, we found a suitable substitute which did not have to be treated as hazardous waste and therefore posed no risk of contamination or pollution to natural resources after disposal. We have been able to reduce hazardous waste by 2,800 pounds annually, and the initiative has also saved the company USD 100,000 annually.
You also had a Lean initiative that focused on wastewater treatment processes, which resulted in 57% less sludge being generated in the plating system. What were the most significant challenges in the Lean manufacturing process related to wastewater treatment?
The electroplating process inherently requires strong controls on wastewater treatment, because we are working with metallic ions that need to be captured, consolidated and disposed of properly before discharging the cleaned process water back into the environment. We pride ourselves on discharging water that is chemically purer than the incoming water we receive. Our biggest challenge in this case was how to most-effectively separate the hazardous material and concentrate it into a metals-rich sludge, so as to minimize total generated mass. We achieved this through process improvements that included changing our nickel scrubbing equipment from a metals-based recovery system to a water-based recovery system; redesigning the plumbing in our clarifying tank to reduce turbulent disturbance; and improvements in our filter press and water extraction process so that less water was trapped in our sludge cake. We followed this up with a camera system that allows us to monitor and record, in real time, the discharge of our system to our local city authority. Our commitment to continuous improvement in our wastewater treatment processes has earned us two prestigious awards in the last ten years for Operator and Industrial Plant of the Year in the State of Indiana, and we're proud of that.
Looking forward, how can dormakaba further benefit from Lean manufacturing to recognize other waste streams that could be eliminated? What kind of tools can a company use to achieve this?
Lean, as a philosophy for how we operate our business, teaches us to continually identify and eliminate waste. The key is to identify what activities, material and information is providing value to our customers and what is not. Then you can devise ways to eliminate or at least reduce the everyday waste in your operating system, whether that be excess packaging materials received from vendors, which must then be disposed of; poor quality parts that must be reworked or discarded; paperwork which is looked at only once and thrown away, etc. One of the simplest tools that is helpful for pointing out where opportunities for improvement exist is to go to gemba, ie. the actual place where the work is performed and value created, observe what you see and compare it to the Seven Forms of Waste. Where there is Correction, Overproduction, Movement, Motion, Waiting, Inventory or Processing Waste, there is opportunity to reduce the total waste stream. Lastly, do not forget the eighth Waste – not empowering people who know their processes and have ideas to improve them. Ask them and help them create change for the better!