Product-related Energy, Emissions, Effluents & Waste
10 min
We aim to reduce our customers' environmental burdens by designing materially- and energy-efficient products.
Read about how escape route systems can be secure and energy-efficient at the same time
Read story
Why it matters
In terms of primary energy consumption, the building sector is one of the largest energy users in the world – as a result, their influence on climate change is enormous. As a leading manufacturer, dormakaba is committed to incorporating the latest product life-cycle approaches and environmental technologies to continuously advance our product development and improve our as well as our customers' sustainability performance. This not only provides new opportunities for our design and manufacturing processes; it addresses our customers' expectations regarding environmentally friendly products.
Key activities
We aim to reduce our customers' environmental impacts by designing materially- and energy-efficient products. We are dedicated to producing high-quality and reliable products and solutions, while also integrating our customers' desire for environmentally friendly options. As a result, product design remains a core focus of our sustainability strategy, with an emphasis on energy in-use, waste and emissions reductions.
The trend toward sustainable design and ecodesign is here to stay. With an average lifespan of 40 to 50 years, buildings should ideally be constructed in a way that allows required materials and natural resources to be used efficiently. Green Building certification schemes – such as Leadership in Energy and Environmental Design (LEED) or the German Sustainable Building Council (Deutsche Gesellschaft für Nachhaltiges Bauen, DGNB) – rate the sustainability of an entire building. The green building market is forecast to experience a 13% growth rate through the year 2020, according to Research and Markets. By developing sustainable products and providing transparency on our sustainability performance, dormakaba secures our market position and offers added value to customers seeking Green Building certifications.
To reduce product-related energy consumption, emissions, effluents and waste, dormakaba focuses on three areas:
Product design with a life-cycle approach

Greater transparency with Life Cycle Assessments and Environmental Product Declarations

Sustainability platforms for greater information sharing
Product design with a life-cycle approach
In the financial year 2017/18, we integrated our sustainability commitment and life-cycle approach into the company's Product Design Manual, which is binding for all new dormakaba branded products in the Access Solution segments. By integrating life-cycle thinking in the Product Design Manual, dormakaba is taking the first steps in integrating environmental impacts into our decision-making, as well as in product and process development. This product development and design process requires Aesthetic Design Approvals, so called ADECO, to ensure our design integrity. Each step in our design development stage requires close collaboration between our engineers and producers. Final approval for pre-production is granted by Operations, Product Development, Product Management and Product Design. The manual's product design requirements are binding for all new dormakaba-branded products and product ranges. The life-cycle approach covers the complete value chain from resources, production and distribution to use and waste/recycling:
Greater transparency with Life Cycle Assessments and Environmental Product Declarations
Life Cycle Assessments (LCA) provide a reliable calculation of the environmental performance of a product. This includes the systematic assessment of the environmental impacts arising during the extraction of raw material through the production, distribution, and use phases which are quantified based on materials, energy consumption, transport routes, emissions, and the lifespan of the products.
dormakaba uses two LCA approaches: cradle-to-gate and cradle-to-grave. The first approach considers all production stage modules: raw material supply, transport, and manufacturing. The latter one covers all life cycle modules, which means that in addition to the cradle-to-gate stages, cradle-to-cradle analyzes the building construction process, product use stage and end of life, i.e our upstream value chain. We mainly use cradle-to-gate "with options" so that we can select the relevant upstream life cycle module(s).
We quantify and disclose a product's environmental impact through its entire lifecycle in our Environmental Product Declarations (EPDs), which are based on the international standards ISO 14025, 14040, 14044 and the European Standard EN 15804. We have adopted them to ensure that our environmental information is reliable and credible. Our goal is that by the end of the financial year 2020/21, products representing 30% of our total turnover have EPDs and/or Health-related Product Declarations (HPDs). To provide this range of EPDs, we are working with sustainability consultancies who help us in creating the LCAs.
In addition, dormakaba has become a partner in the "Live LCA" project hosted by KIC InnoEnergy and the European Institute of Innovation and Technology. The project aims to quickly assess life cycle information by increasing the use of live data from production monitoring systems. We support the project by providing manufacturer-specific data. In addition to the LCA, product-specific live data on topics such as energy and material consumption can be used to determine potentials in energy savings or waste reduction. At the beginning of 2019, we conducted a Live LCA workshop. The workshop showed that even though we already collect relevant and valuable LCA data, further steps are necessary to achieve better data quality. This project helps to improve the understanding and relevance of data hygiene at dormakaba.
Sustainability platforms for greater information sharing
Product information from EPDs and/or HPDs can contribute to the Building Information Modelling (BIM) and specifications or help attain the highest levels of green building certification systems, such as Leadership in Energy and Environmental Design (LEED).
dormakaba publishes the product information from EPDs and HPDs on internationally recognized sustainability platforms such as the DGNB Navigator, mindful MATERIALS, and toxnot. These databases provide transparent environmental and health information for users and ensure easy access to specific product data. By providing product information on such databases, we seek to lower market entry barriers in the green building industry, making our inclusion in related bidding processes possible. These databases serve slightly different purposes:
DGNB Navigator is an online database created for building products based on the DGNB certification system. The online platform creates transparency and provides manufacturers, architects, planners, craftsmen and auditors with fast, precise and free valuable information on the product they are looking for and its characteristics – for example, information on environmental impacts, life cycle costs, energy requirements or emission behavior. dormakaba received 14 DGNB-Navigator Labels for the European EPD product portfolio in the last financial year.

mindful MATERIALS is a free platform with aggregated information on environmental impacts and human health for products from manufacturers. dormakaba uses it to meet international market requirements, which are mainly driven by the American construction industry, and to keep abreast of new developments. Since this platform is constantly being revised, a Content Working Group was set up, of which dormakaba is a member. The aim of the Content Working Group is to coordinate a suitable approach for product manufacturers and to make suggestions for further platform developments.

toxnot is a platform for chemical management and hazard assessment. dormakaba uses this platform to create and manage Declare Labels in order to fulfill the American and international market demands for greater transparency of hazard profiles. The aim of toxnot is to promote safe and environmentally friendly products.
Our performance
The know-how we have acquired over the years enables dormakaba to set appropriate priorities in a constantly changing international market environment with ever new demands on sustainability issues. At the same time, this evolving marketplace remains our biggest challenge. We constantly exchange knowledge with our colleagues worldwide in order to remain abreast of customer demands and to raise awareness on the importance of achieving a comprehensive understanding of sustainability issues.
The former Dorma group has been using LCAs in the form of EPDs since 2011. The first EPD we offered to customers was for our main door closer TS 93. Since then, our EPD portfolio has steadily expanded for our top-selling and tender-relevant products.
Our aim for the financial year 2018/19 was to publish two new EPDs. We published one EPD for our compact readers in the Electronic Access & Data global product cluster. We had also aimed to publish an EPD for the TS 98 XEA door closer, which was achieved with a slight delay in July 2019. Our further aim for the financial year 2018/19 to renew the EPDs for the TS 93 and BTS 80 door closers was not achieved but postponed to the subsequent financial year.
In addition, we have begun baseline data collection and calculations to create the EPDs for door closers, automatic sliding doors and sensor barriers detailed in the Outlook section below.
These efforts contribute to achieving the dormakaba sustainability target of having EPDs and/or HPDs for products representing 30% of total turnover by the end of the 2020/21 financial year. Currently only 13% of our products based on sales volumes are covered by EPDs and/or HPDs.
Outlook
We expect to publish four new EPDs for door closer accessories, sensor barriers and automatic sliding door systems in the financial year 2019/20. In addition, four EPDs for door closers will be renewed, including the two named above which had been postponed.
Spotlight on SafeRoute emergency exit and escape route system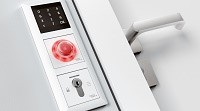 SafeRoute makes it possible to intelligently integrate safety and energy efficiency
Using energy-efficient access solutions is just as important as providing comfort, accessibility and security.
For example, in securing escape routes. Here, SafeRoute from dormakaba is a solution that promises considerable potential for energy savings: the modular, intelligent escape route system adapts itself consistently to its intended use and consumes up to 40%* less energy than functionally comparable systems, thus reducing associated CO2 emissions by the same amount.
All in all, over 30 years of experience in escape route safety have led to more sustainability with SafeRoute. The lower power consumption results from a newly developed technology in combination with a system design that requires less material. And our new licensing model offers facility managers the benefit of increased flexibility and less logistics, if subsequent functional adaptations are required.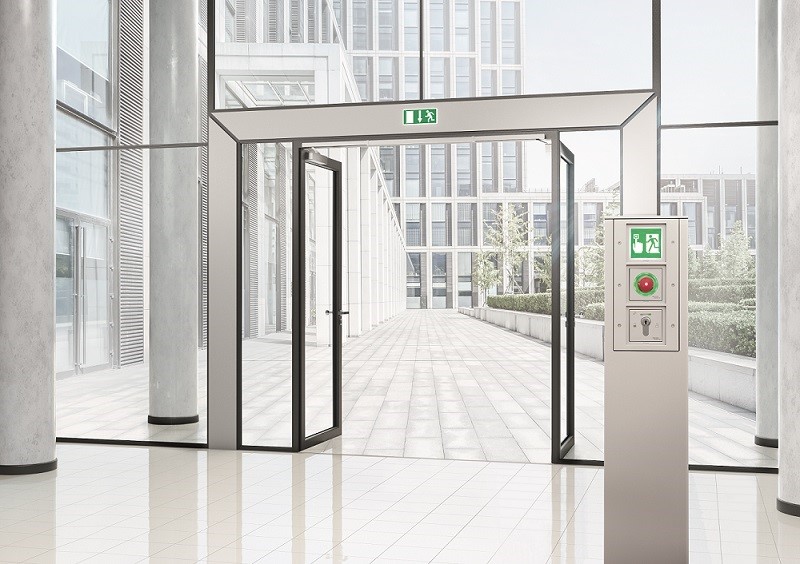 * Example of SafeRoute's energy consumption under comparison of escape route security systems without a uniform system bus. The calculation basis considers a normally locked single door which is not used very often, equipped with an emergency button, a control unit and a magnetic clamp (operating voltage of 24 V DC, holding force of 2 kN).